Miller-Armstrong Center
>> Club 57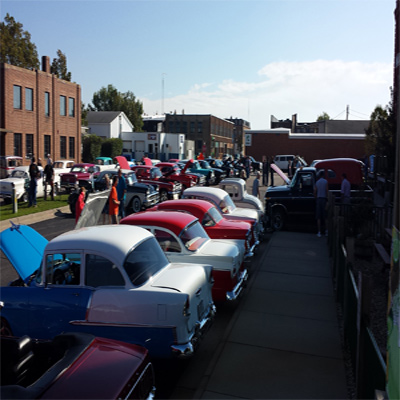 Club 57 is the life of the party at the Historic Miller-Armstrong Center. Club 57 is a renovated grocery warehouse that now has become a destination for locals and visitors alike. Located on the first floor of the former WJ Armstrong warehouse, you'll immediately notice wood floors and beams that go back hundreds of years. An eclectic collection of memorabilia adorn the cedar walls it's no wonder that guests from around the US have said Club 57 is a treasure to have in a small town.
Starting September 10th, Club 57 will now open at 11am. Also, we will be offering a Taco Bar from 11am-8pm!
Club 57 bar & grill offers a great variety of burgers and sandwiches, a large assortment of appetizers (including wings), and various supper specials. Beer geeks and aficionados have plenty of options with the largest selection of tap beer in town and a large assortment of bottled beers, Club 57 was honored by Southern MN Scene magazine as having the best beer selection in Southern Minnesota.
The atmosphere is unmatched with dining room that seats 150 guests making it a great place to hold an after work get together, celebration, or family event. Enjoy free wi-fi, play pool in billiard room, play your favorite songs on the digital jukebox, relax with a video game, or sit at our high top tables and enjoy your favorite MN teams, Club 57 is your place to go in Waseca.
For those that like to enjoy their meals and drinks outside, find your way to our patio and take a seat under an umbrella on our patio.
Club 57 is truly a great place to catch up with family and friends- whether it's just a few or a hundred, we'll make your time memorable!
Offering the Best Minnesota Beers!
Click here for the new Tuesday - Wednesday menu!
Please note: There is no food from Starfire Grill on Sundays and Mondays.
Live Patio Music!
Thursday nights @ Club 57/Starfire Grill
May 25th- Tully & Allen


June 1st- Pete Klug
June 8th- Ben Johnson
June 15th- Bob Stephan
June 22nd- Bruce Burniece
June 29th- Angel Cal Anhalt


July 20th- Hootenanny Annies
July 27th- Los Tequilesos


August 3rd- Tully & Allen
August 10th- Ben Johnson
August 17th- Bob Stephan
August 24th- Bruce Burniece
August 31st- Angel Val Anhalt
Enjoy our Summer Patio!
When it's not raining you can enjoy your meal on the most comfortable patio around! Food, a bottle of wine or tap beer with friends and family, & great Minnesota summer weather make for a memorable evening.
Club 57 Hours:
Sunday - Wednesday: 3pm-11pm
Thursday & Friday: 3pm-1am
Saturday: 11am-1am
Phone: 507-833-4700